**HAWAIIAN INSPIRED DESIGNS IN GOLD FILLED & GOLD PLATED** Items take 3-5 days to be made, allow delivery time- based on your USPS shipping selection. HB Designs Hawaii is NOT RESPONSIBLE for post office error or incorrect addresses provided. Please measure sizes according to my sizing charts on each listing. Thank you for your business!
---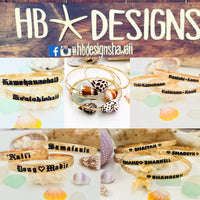 Handmade In Hawaii
What is HB DESIGNS HAWAII and what do we offer?
HB DESIGNS HAWAII was established in January 2015. I first starting making earrings back in 2004. In 2015 I expanded and began making gold filled pieces. What my goal is, is to bring Hawaiian heirloom like jewelry pieces, that will last, to you at affordable prices. A piece of gold filled jewelry has an approx lifetime of 30 years if cared for properly. What gold filled means is that there is a thick 14kt gold layer pressure bonded to a base metal, which for my pieces are brass. The total composition of each piece is 5% total of 14kt gold. Gold filled will not tarnish when worn in showers or ocean water. It will survive pools and hot tubs, but is not advised due to the high chlorine content, and may damage your piece overtime. On all of my soldered pieces there is a seam that may appear lighter in color because it is soldered with solid 14kt gold. The seam is because my bracelets are made of wires that are already patterned before I make them. The 14kt authentic ones are made first then filed down and engraved which makes the seam impossible to see. Gold filled ones can't be filed down too much because you'll file away the 14kt gold layer exposing the inner metal. All my bracelet sizes are in inches. You measure around the largest part of your wrist and that is your size. Before ordering please make sure this is an option for you. If you can appreciate something that is handmade and brought to you for an affordable price, this is for you. However if you're looking for an authentic 14kt piece at an affordable price, this isn't for you. If you're going to compare my pieces to gold plated pieces and question my pricing this is not for you either. I am trying to be as honest as I can to avoid any disappointment in my products. If you do order and your item doesn't fit I will try to reach a resolution with you but all sales are final. All sales are final because I can never recoup the amount of time it costs to make a piece. If you receive a piece with an error and it is my error I will gladly replace your item. If you took the time to read this know that I appreciate the time it took you. If you choose not to purchase my items after reading this, thank you for being diligent and doing your research as this is why I took the time to write something like this. If you still wish to purchase, thank you for your business and I'll gladly accept your order.

Gold Filled and Plated Island style jewelry, locally handcrafted on the Big Island. Shells are handpicked throughout the shores of the Hawaiian Islands. Find us on Instagram for more updates @hbdesignshawaii
Please measure Largest part of wrists- according to sizing charts provided on each listing. Once order is submitted, ALL SALES ARE FINAL. There is NO WAY to resize a bracelet bigger so PLEASE MEASURE CORRECTLY.