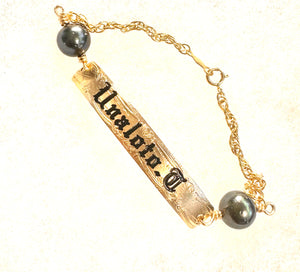 8mm Gold Filled ID Bracelet on 2.5mm rope chain-Includes 10 letters 1st letter capital LIGHT WEIGHT
HB DESIGNS HAWAII
Regular price $88.00 Sale
14kt Gold Filled LIGHTWEIGHT bracelet in the font of your choice from the drop down menu. (This listing is for ONE BRACELET ONLY) Includes 10 letters. Add name in name box correctly. Name will be written exactly how you spell it. I Engrave first letter capital and rest Lowercase. ***The background where the name is will be flattened to improve name clarity.*** If you need more than 10 letters engraved, please add extra letters to cart before checking out. Heirloom letters are $2 ea. MAX Letter limit of 16 total per bracelet. THERE IS A SEPARATE "EXTRA LETTER" LISTING YOU CAN ADD TO THE CART IN THE AMOUNT OF EXTRA LETTERS YOU NEED. If purchasing more than one bracelet, please be very descriptive as to what you'd like engraved on each bracelet.
Please be sure to order correct size, ALL SALES ARE FINAL

** Measure in inches around your wrist as to how you'd like it to fit. This bracelet has a clasp so you DO NOT need to measure around the largest part of your hand. If you have questions on sizing please ask. I AM NOT RESPONSIBLE FOR YOU ORDERING WRONG SIZES! ALL SALES FINAL!!! ** Read listings carefully!